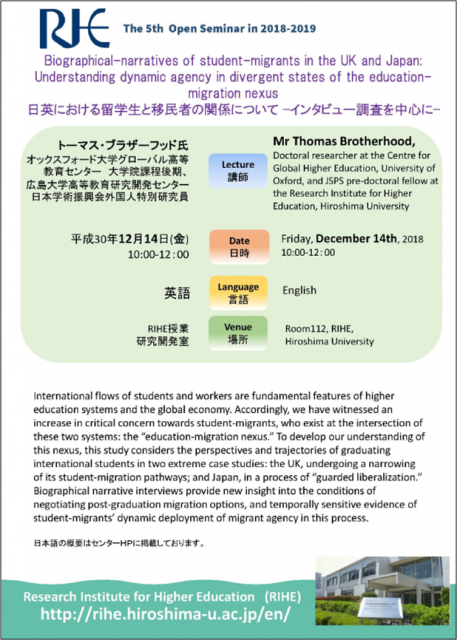 The open seminar will be held as follows:
■Date
10:00-12:00, Friday, 14th December, 2018
■Venue 
Room No. 112, RIHE, Hiroshima University
■Theme 
Biographical-narratives of student-migrants in the UK and Japan:
Understanding dynamic agency in divergent states of the education-migration nexus
■Lecture
Thomas Brotherhood, Doctoral researcher at the Centre for Global Higher Education, University of Oxford, and JSPS pre-doctoral fellow at the Research Institute for Higher Education, Hiroshima University
■Abstract
International flows of students and workers are fundamental features of higher education systems and the global economy. Accordingly, we have witnessed an increase in critical concern towards student-migrants, who exist at the intersection of these two systems: the "education-migration nexus." To develop our understanding of this nexus, this study considers the perspectives and trajectories of graduating international students in two extreme case studies: the UK, undergoing a narrowing of its student-migration pathways; and Japan, in a process of "guarded liberalization." Biographical narrative interviews provide new insight into the conditions of negotiating post-graduation migration options, and temporally sensitive evidence of student-migrants' dynamic deployment of migrant agency in this process.
■Language 
English
To register, please fill out the form below.